The ideal solution for diagonal cleaning and conveying
The economical alternative
Using only a few inexpensive parts, highly effective brushing stations can be constructed at minimal cost. The Mink Kett-System can handle a wide range of tasks, including conveying, transverse cleaning and positioning on conveyor belts, and controlling the movement of delicate objects.
Conventional applications: Cleaning   I   Conveying   I   Guiding   I   Handling materials
Advantages:
An alternative to roller brushes, round brushes, flat-belt brushes, toothed-belt brushes or Vee-belt brushes
Simple design, dependable operation
An efficient conveying solution that reduces waste and enhances safety
Quick assembly and adaptation to new tasks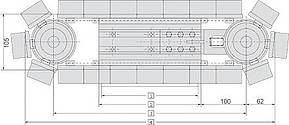 Advice and customised special solutions
Questions to our products, prefer an individual solution for your application or would like to order a sample? We are pleased to offer you a high quality, guaranteed to succeed consultation. Kindly give us a few details so that we are able to find you the correct advisor. The more accurately you describe the problem, the better we can prepare for the callback.
Our specialist will contact you shortly. Alternatively, you can contact us by telephone or email:
Fon: +49 (0)71 61 40 31-0
E-Mail: info@mink-buersten.de
On-site consultation visit?
Mink Brushes operates internationally and has advisors in several countries. Even though your company headquarters is not in Germany, there is most likely a possibility to arrange an on-site visit.