360° – flexibility for installation and transport
For an optimal ease of handling during conveying in all directions
The Mink Easy-Move-System is an excellent alternative to existing omni-directional rollers. Thanks to the point-like flexible bristle surface, even heavy goods with rough surfaces can be conveyed easily and without damage. Upon request, the new system can be pre-assembled on panels to your specification. Furthermore, the individual segments can be positioned exactly where they are required on the base panel, depending on the position of the contact points. Replacement rollers without supporting panel are supplied in packaging units of 20 pieces each.
Conventional applications: Conveying
Benefits:
Damage is prevented
Quiet conveying
Can be adapted to the load capacity required
Quick replacement of individual brushes
Smooth 360° movement in conveying, turning, pushing and sorting applications
Load capacity: 170 kg/sqm (100 pieces)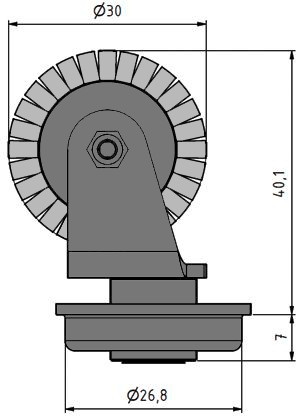 Advice and customised special solutions
Questions to our products, prefer an individual solution for your application or would like to order a sample? We are pleased to offer you a high quality, guaranteed to succeed consultation. Kindly give us a few details so that we are able to find you the correct advisor. The more accurately you describe the problem, the better we can prepare for the callback.
Our specialist will contact you shortly. Alternatively, you can contact us by telephone or email:
Fon: +49 (0)71 61 40 31-0
E-Mail: info@mink-buersten.de
On-site consultation visit?
Mink Brushes operates internationally and has advisors in several countries. Even though your company headquarters is not in Germany, there is most likely a possibility to arrange an on-site visit.